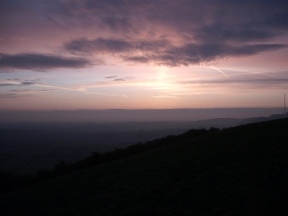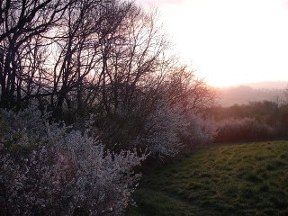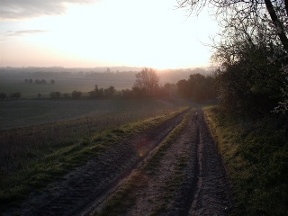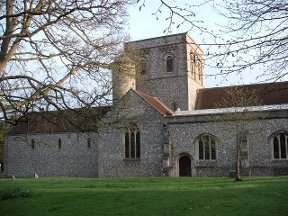 That night I slept badly, stretched on the hard ground with the wind rustling the grass. Towards dawn the breeze died; a light mist gathered and the air grew stuffy and still. When I awoke the darkness was fading to grey.
As the place where I was camping could be seen from several directions it didn't seem a good idea to hang about, so I packed quickly and made my way back to the path. Beyond Ladle Hill it crossed several fields, descending to a shallow valley where a lane went over the edge of the escarpment. From there it climbed once more onto Watership Down.
Watership Down is the setting for a book by Richard Adams. It's all about rabbits, so I shouldn't have been surprised by the number I encountered the previous evening! There were more of them that morning, nibbling the close-cropped turf. I followed a track which sloped gently up to the summit. There I stopped to see the dawn.
Under ridges of purple cloud the lowlands lay in darkness, awaiting the transformation of night. For a while the world was still. Then from the east the rising sun threw bright shafts across the sky. The harsh tints softened and faded through orange to palest white. As the light grew colour returned to the waking earth, and it was morning.
I set off once more on a footpath which dropped steadily to the fields. From the base of the hill it wandered on in the direction of Kingsclere, a pleasant stroll in the early sunshine. There were no people about, but I startled a pair of roe deer browsing on someone else's crops. When they saw me they bounded off, barking petulantly.
It may have been the sight of the deer feeding, or the effects of a four-mile walk in the fresh air, but I suddenly realized that I was extremely hungry. Which was unfortunate because Kingsclere at seven in the morning was closed for business. I just missed the early bus to Newbury and had to hang around for the best part of an hour trying not to think about food! Finally transport arrived and I could get to somewhere providing breakfast.
Beyond Kingsclere the chalk comes to an end. The next stage of my journey would take me south through the heart of Hampshire.
---