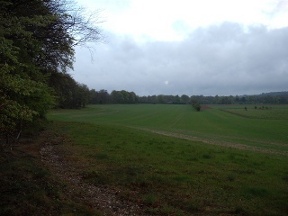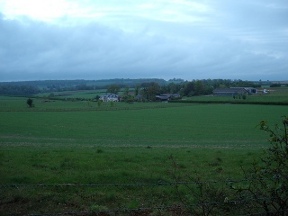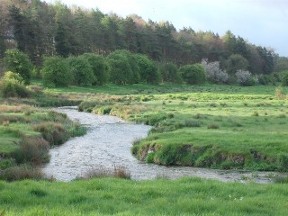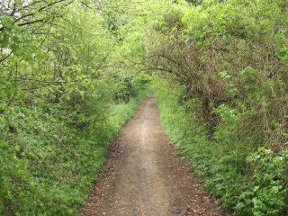 The following morning I had one of those sudden awakenings you sometimes get when camping out. Drowsing in my sleeping bag I felt water dripping onto my face. So much for the lie-in I had planned! I dressed hastily, stuffing my gear into the rucksack, then hurried back to the lane. By the time I got there it was pouring.
The Wayfarer's Walk actually runs parallel with the lane, but in that weather I wasn't venturing anywhere I didn't have to. It was bad enough on the road. Swollen clouds drifted overhead, dumping more rain onto the sodden fields. Any view there might have been was blanked out by grey banks of mist. And I hadn't eaten. Underwhelmed by it all I trudged off in the direction of Brown Candover.
Overhead the sky was dull and bruised, giving promise of more foul weather to come. As I entered the village I spotted a bus shelter, but since I was already wet it seemed better to keep moving. Shedding water copiously I ascended the long slope to Oliver's Battery.
The landscape was very Hampshire - well, Hampshire of a certain type. This is shooting country: concrete tracks cross wide, undulating fields; the buildings are clean and modern; there are patches of tidy woodland, edged with mown grass. And everything is fenced and everywhere there are signs warning trespassers to keep off.
I didn't enjoy that part of the walk much, but then again conditions were hardly ideal. It was muddy and very cold. Slowly however the sun rose behind the clouds; and as the rain eased my spirits lifted. By the time I reached Oliver's Battery I was able to peel off my soggy jacket.
The Battery is actually an iron-age fort set on a wooded hill, though there's not much to see - just a section of bank and ditch, half-hidden by trees. From the hilltop the track runs south-west over the shoulder of Abbotstone Down and into a narrow valley. The stream flowing through the valley was rather odd: dark, bubbling water, fringed with rushes, unlike anything else I had seen on the chalk. It reminded me of the peat streams of Dartmoor. Turning left I followed it as it descended to New Alresford.
The approach to the town is typical of so many others. Tracks overarched with hazel become lanes, edging past houses; until suddenly you find yourself on a main road. I didn't see much of the place; the bus to Winchester pulled up just as I got there, so I left exploration for another day.
Beyond Alresford is the South Downs Way. That great trail would take me east through Sussex to the sea.
---